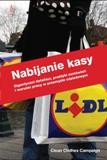 This is the report by Clean Clothes Campaign (CCC) translated into Polish by KARAT as a part of the activities aimed at strengthening the involvement of civil society and activists in the improvement of the working conditions in garment industry.
It is about giant retailers – often referred to as supermarkets or big box retailers – such as Walmart, Tesco, Carrefour, Lidl, and Aldi. What makes these retailers special is their size: their global reach and their huge market share in many countries. Using their size to dominate suppliers and push them into offering lower prices is how the Giants do business.
It is also a report about the clothing industry, in which the giant retailers are big players. But most importantly, it's a report about the people – mostly women – who make the clothes on sale in giant retailers.
Published in 2008.
The Polish version is available HERE
The English version by CCC is available HERE