The campaign "You can be whoever you want! The profession has no gender "
in cooperation with the Gender Equality Observatory (Institute of Public Affairs)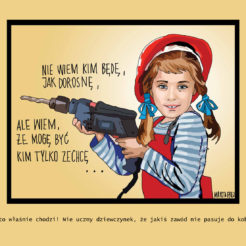 We want to encourage girls and women to learn the professions which are in demand and are better paid then the feminized professions, i.e traditionally chosen by women.
We want girls to choose professions according to their  interestes. And those of them who need to be financially independent quickly to choose well paid professions which is in demand on the labor market.
We want girls to make informed choices about their career paths. We want to show them how many possibilities they have regarding a choice of profession as well as  the consequences, mainly financial, related to this choice.
The campaign (the memes and video clips) is aimed at girls. By undermining existing gender stereotypes related to occupations, the campaign aims to show the girls the new perspectives in education. The website will contain information materials such as the lists of patronage classes and vocational schools which welcome the girls in clasess traditionally regarded as "male".
The second target group of the campaign are the last grades' teachers of primary schools and the career counselors. For them, we want to develop a short guide on how to talk with the girls so as not to duplicate the gender stereotypes related to professions and show them their real possibilities of choosing a vocational school. The guide will focus on the changes and needs of the labor market as well as the future financial situation of the girls. The guide will include a list of vocational schools, including patronage classes friendly to girls. Additional educational material – YouTube videos.
We want to cooperate with the vocational schools with patronage classes as well as the business interested in supporting these classes. We look for partners who are interested in increasing the number of graduates, see the potential of girls  and want to encourage them to choose a deficit professions.
In addition to the online campaign, we plan a campaign in the public media. In cooperation with an advertising agency, we plan to create a 30-second TV spot using free aerial time for social campaigns. We also intend to run similar campaigns on Polish radio and local radios.
See the leaflet of the campaign "You can be whoever you want! The profession has no gender! "
The campaing results from the research conducted by Karat in years 2015 – 2017. Learn more clicking here https://www.karat.org/slider/segregacja-krzyzowa-ze-wzgledu-plec-niski-status-ekonomiczno-spoleczny-rynku-pracy/

The partner in the campaing: The Gender Equality Observatory