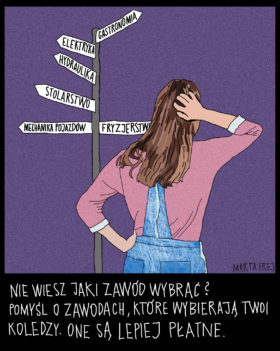 On 19 October 2017 Karat Coalition and the Polish Teachers' Union (ZNP) sent  the letters to the Ministry of Family, Labor and Social Policy and the Ministry of Education calling for including the female grammatical forms  in the names of professions. Karat's research shows that the lack of female forms aggravates stereotypes about occupations "suitable" for women and men.
In the letters we point out that having the professions in female forms would attract women to traditionally men dominated occupations. This would benefit the women as well as employers and schools  which, due to demographic decline,  face the problem of lack of students in technical courses.
The initiative is one of the activities aimed at encouraging the women to enter the men dominated occupations.
More information at
The initiative is possible thanks to the Batory Foundation and the program "Counteracting discrimination".