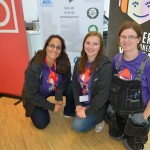 On Sep. 29-Oct. 2, 2015, representatives of KARAT Coalition, invited by a partner organization KIUY (Kinner I Utradisjonelle Yrker – Women in non-traditional professions) went for a study tour to Trondheim in Norway.
The goal was to get familiar with other countries' good practices used to increase a number of women working in non-traditional professions. Thus, the representatives of KARAT Coalition took part in a conference "Non-traditional career choices and cyberbullying", visited a vocational school in Melhus and saw a construction company in Trondheim. T hey also held numerous conversations with KIUY activists and participants of the conference.
Detailed report on the study tour and the conference is available in Polish "Kobiety w nietradycyjnych zawodach"
Main conclusions drawn from the visit to Norway:
1. Regardless how advanced is the country in terms of equal rights promotion, a division of social roles, especially professional ones, remains very strong. Norway is a good example: here, the prevailing thinking is that everybody should be free to choose his or her education, according to his or her own needs and aspirations. In reality, the country still sees clear distinction between feminized professions (mainly in care and health care sectors) and masculine professions (mainly technical professions). A wage discrepancy between men and women also exists, with lower wages in public sector dominated by women and higher wages in case of decision-making positions with much lower participation of women.
2. Main reasons why girls choose professions recognized as "feminine" – despite their lower wages and the market being saturated with these particular jobs – are the same both in Norway and in Poland:
Strong stereotypes regarding social roles of men and women which is often related to different treatment of boys and girls at home, in preschools and schools;
Fear of the public opinion when a non-traditional profession is chosen;
Lack of up-to-date knowledge on various professions;
Malfunctioning professional advisory at middle-high schools that often strengthens stereotypical attitude to different professions.
3. It will not be possible to change traditional roles on the labor market until girls and boys will keep choosing different educational paths and until wages in feminized professions will be lower than in the professions dominated by men.
4. Fighting career-related stereotypes is good for the state – it means better use of its citizens' talent as well as higher creativity and productivity of professional groups where both genders are represented.
5. To overcome present market labor segregation by gender changes on governmental and Parliamentary level are necessary, as well as changes in schools, families and individual.
6. What should be done?
Actions being taken in Trondheim and its surroundings show that right attitude of schools that encourages girls to choose non-traditional professions is crucial. Various activities by vocational schools (like the ones by Melhus school) are also important. However, Norwegian experience shows that the highest number of girls decides to choose "male" profession following an example of other women who had already done so. This is why KIUY initiative "Women in non-traditional occupations" should be amplified and its modus operandi should be copied.
Career advisory system at middle-high schools should be improved and include up-to-date knowledge on occupations and gender stereotypes-free advisory.
Social status of certain professions should be raised.
There should be actions aimed at parents to make them realize that it is good to let their kids to choose a profession in line with his or her interests, not due to stereotypes or family members or environment's expectations.
Cooperation between schools and local administration, trade unions, employers and grass-root initiatives is also important to promote non-traditional occupations among students.
It is necessary to raise awareness among employers showing that labor environment with men and women performing the same jobs improves productivity and creates good working climate.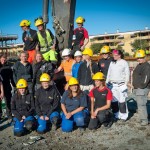 Girls from KIUY – Women in non-traditional occupations.