BRIEFINGS:
POLICY PAPER:
National Dialogue "Connect!",  Round Table on Promotion of Gender Equality and the Status of Women in Programs and Projects of Development Aid in a Dialogue with the Countries of Sub-Saharan Africa, SCCD Slovakia, 2012. Available inSlovakian
LEAFLETS:
English, Polish, Bulgarian, Romanian, Slovakian

CASE STUDY:
GUIDE:
Mini-guidebook on development cooperation from the women's rights perspective. Language version: Polish
THE ELECTRONIC INFORMATION PACKAGE ON GENDER EQUALITY IN AID EFFECTIVENESS PROCESS:
The Electronic Information Package is a part of the project Connect! Women in development cooperation. Inclusion of effectiveness process in the common advocacy strategy and action plan cofinanced by East East: Partnership Beyond Borders Program in Batory Foundation and European Commission.
1. Official International Documents:
Agreed List of Gender Equality Indicators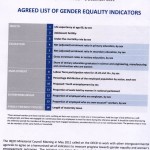 2. BetterAid Statements:
3. Open Forum for CSO Development Effectiveness Documents:
4. Connect! East South West Women For Development – Project Materials:
5. Others: